In the SMT business, we have long provided support for research and development in the implementation industry by in-situ observation with "high temperature observation equipment", which features precise temperature control and heating atmosphere. We will totally solve your problems and support your development.
High temperature observation equipment SMT Scope
It provides real-time observation of materials as they change under high temperatures, from room temperature up to 900℃. And has long contributed to the research and development of highly reliable solders, components and implementation technology.
Various heating
atmospheres observation
In addition to atmospheric air and nitrogen, it is possible to control the oxygen concentration in a nitrogen atmosphere. Besides the handling of formic acid, hydrogen and high vacuum, dew point and oxygen concentration adjustment is available as well.
Bump molding under formic acid atmosphere
Comparison videos of ball solder melting(formic acid/nitrogen)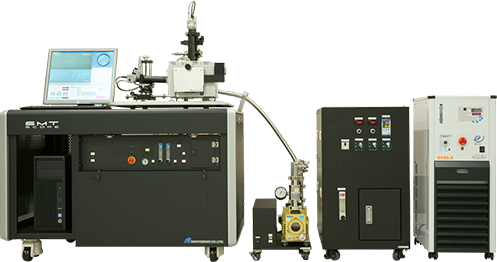 The SMT business of SANYOSEIKO.CO.,LTD. developed and released the high temperature observation equipment, the SMT Scope, in 1999. Ever since its release, the scope capable of precise temperature control has been introduced as the onsite observation equipment by many electric equipment, automotive, components, and material manufacturers as well as national and academic research institutes.
With the July 2006 enforcement of the RoHS Directive, which prohibits the use of lead, the SMT Scope has been contributing to the research and development of highly reliable solder, components, and mounting technology.
The company was granted the contract to join the Strategic Core Technology Advancement Program initiated by the Ministry of Economy, Trade and Industry in 2008 and engage for three years in research and development of the equipment to evaluate the wettability of lead-free soldering paste based on an industry-academia-government collaboration.
Engaged in preparing the draft of "4.5 Displacement detecting wettability test" in JIS Z 3284-4 soldering paste, "Section 4: Wettability, Solder Ball and Spreading Test," issued in June 2014 and also released the SMT Tester, a displacement detecting wettability tester, which conforms to JIS standards, that same year.
In recent years, the customized equipment that satisfies the needs of customers who require various heating atmospheres has become our strong point and in addition to the model suitable for heating in an atmospheric air and nitrogen atmosphere, the company offers the model capable of controlling the oxygen concentration in the nitrogen atmosphere, the model suitable for heating in a hydrogen, formic acid atmosphere and a high vacuum environment, and the model with dew point control capability.